enditnow® is a worldwide church initiative on the Fourth Saturday of August each year.
General Conference Women's Ministries (GCWM) coordinates the production and distribution of the enditnow® Emphasis Day resource packets with contributions from six additional co-sponsoring departments of the General Conference: Children's Ministries, Education, Family Ministries, Health Ministries, Ministerial Association, and Youth Ministries.
You may print and reproduce the packet if you'd like to share it with others. We encourage you to use it in your church's 2022 enditnow® Emphasis Day program and beyond.
For 2022 enditnow® Emphasis Day we have chosen to focus on "Abuse of Power," an issue that is difficult to address and infrequently spoken about.
Click here for 2022 enditnow resources.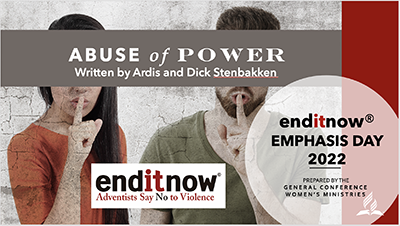 Past packets for ennditnow can be found here